Thank you for visiting Bodyguard Training International. We have trained men and women Bodyguards for over a decade from around the world, in both domestic and international locations. The BTI Team can travel for domestic and international training deployments. Our instructors have a variety of both military and civilian protection experience and training. From A-list celebrities to foriegn diplomats, our protection training covers all types of clients and situations. We have been featured in many forms of media including newspapers, magazines, TV Documentaries and more. Our executive protection and bodyguard training is recognized throughout the industry. Our core training classes include the following, and much more - call us today to explore our wide variety of bodyguard training and security training courses we offer.





Domestic Protection Scenarios

Estate Protection SOP's

Team Deployments and formations

Threat Detection / Assessments

EPS Communications

Tactical Planning and operations

Physical Intervention Techniques

Client Extraction Drills - High Threat

Stalker Detection & Prevention

AOP - Attack on principal drills

Emergency Field Medical Response

Anti-Paparazzi Training

Weapons Training*
---
We Now Offer CA BSIS Guard Card Online Course!

In conjunction with B Line Security Training we bring online security guard training (California BSIS Approved) for only $69.95! Take the training from the convenience of your computer or laptop, anywhere! This course is also approved for out-of-state Agents who want to travel and work in California. For more information and to enroll today, click the link below!
---
Spring 2014 Courses


Executive Protection Primary Academy 3 Days NEW DATES 2014!
June 13th-14th-15th, Los Angeles, CA
In this 3 day course, you will learn from current operators with years of legitimate experience in the private high profile security industry. Based in Southern California, our course focuses on training that will get you employed. We focus on the skills and training you need now, that is useable now; unlike many EP courses that cost more and cover topics you may encounter once in a lifetime career, here at BTI, our focus is to train you in skills and applications you will use on a regular basis - - we call this a core or foundation training course. A few of the subjects covered in this course will include:
• Anatomy of a Protective Detail
• Principles of Protection
• Personal advance work
• EP Assignments / Roles
• Client Types
• 360* Protection
• Layers of security
• Formations / Motorcades
• Advance Work - advance teams
• Communications
• Celebrity Protection
• Team Dynamics and depolyments
• Arrivals & Departure vehicle drills
• Final includes – Live EP mission on day 3

This course includes powerpoint lecture, video, and live drills in the Southern California area. This course is only open to the first 12 students per class to keep instructor / student ratio close to ensure maximum learning and more time on live drills, with hands on application in real world environments.
All of our instructors are current operators and lead agents for a variety of Domestic High Risk and VIP/Celebrity protection details. What you will learn in class is CURRENT, tried, and perfected techniques and protocols to ensure you and your client's safety.

Tuition - $575 per student, Registration under way - email us for more information - ceo@usabodyguards.com
---
Advanced Executive Protection Academy 7 Days
Location: TBD
Price: $2750, all inclusive* (Lodging, Meals, Transportation, Training, CCW)
Inquire about Military/LEO and Early enrollment discounts.
ceo@usabodyguards.com
In this 6 day live-in academy, everything is provided under the tuition price, including:
Six days and nights of Executive Protection Training

Two days of classroom training, three days of field training

Florida, Utah & Arizona CCW Course included

Live Fire drills - hand gun

Low light drills – night time evolutions

Advance team missions

Everything included in the 3 day seminar, expanded, more hands on training

Various Live field operations – advance team operations, primary team tactics

Live client details and missions

Copy of the EPS training academy manual

Lodging provided Monday through Sunday morning (Double occupancy)

Three meals per day + beverages and snacks

Military Discount available
*Lodging is based on two agents per room. Agents can request a private room for an additional charge. Meals include breakfast, lunch and dinner on training days only. Brunch provided on Sunday, only. Transportation provided to and from LAX airport on Monday and Sunday only. Transportation during training provided by BTI (various locations and venues). The class is limitied to 12 students, to enroll or for more information, please contact us and we would be happy to answer any questions.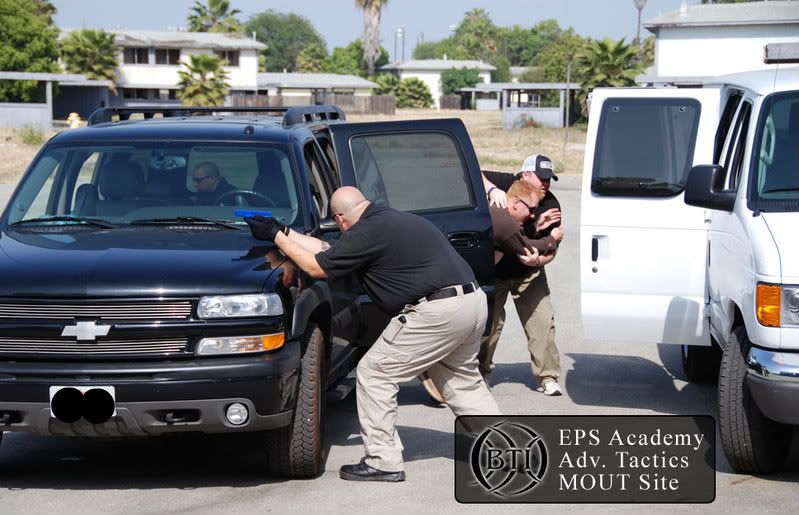 ---
2013 EPS Training Manual Version 2
The manual is complete and is in production, once we start to fill our back-orders, we will open general ordering.
The original EPS 1 Training Manual has been completely overhauled for 2012. This manual is gear towards anyone in the security industry, looking for current real world application; this 400+ page manual is great for the beginner to the seasoned veteran, a reference guide critical for anyone serious about executive protection.
In addition to the updates, the manual itself has gone through an overhaul – from requests of students, we have streamlined the manual – 2-sided printing, spiral bound (no more huge binder), the manual weighs half as much, flexible and is easily stored in your gear bag, and the best part – the manual is half as much as our previous version.